Mark's Beautiful Harps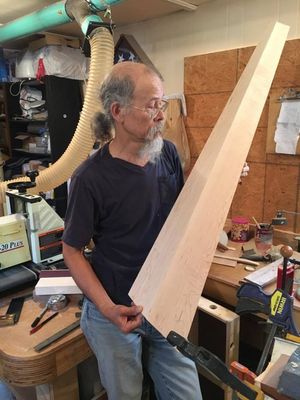 My amazing husband Mark is creating 36 string harps that have the full, mellow sound of the Celtic harp, but have the divided neck, of a Paraguayan harp. If you are curious about the different kinds of harps, and how he designs and builds his, read his article "More About Harps." He is planning to add smaller harps to his line in the future.
What Mark has done is create a Celtic style harp with a slightly larger soundbox than usual which gives the bottom end beautiful resonance and overall more volume. He then tops it with a divided "Paraguayan " style center strung neck, structurally braced internally by lightweight aluminum plates. This has no detrimental effects on the sound, but makes a neck that is essentially bomb-proof.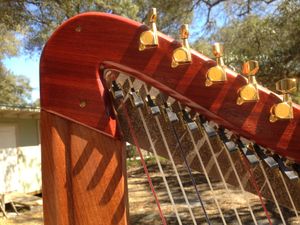 One side of the neck is cut narrower than the other side enabling the addition of sharping levers for quick easy key changes. This split neck also makes it possible to outfit the harp with enclosed mechanical tuners which make it much easier to tune, and eliminates the need for a tuning wrench, which can be misplaced. Then you can't tune your harp! (Been there with a former harp, I had to order a new wrench and wait a week to tune my harp, not fun!)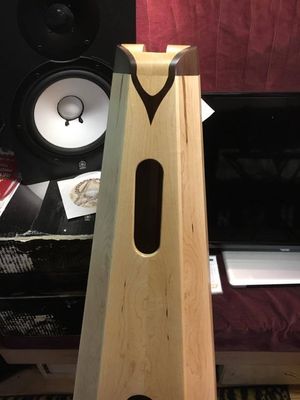 Mark chooses beautiful woods for the body, neck, and pillar, and trims it with a contrasting colored hardwood. He does not use stain, only a clear lacquer so that the beauty and character of the natural wood shine through. His harps are beautiful, durable, and have a wonderful sound that mellows as the hardwood ages. They are easy to tune, stay in tune very well for a harp, and will last for generations. 
He has made two different harps for me, and I've loved them both. They've been through rough road touring, survived temperature changes, and even getting wet and moldy ?, My first one is now owned and played by our daughter Kerah. The second, I have toured with for close to fifteen years, and it has held up beautifully.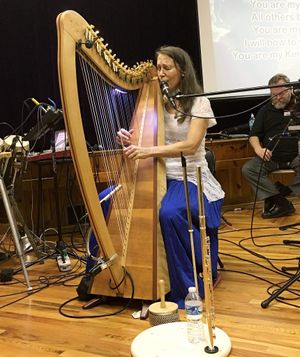 The price varies, depending on your choice of hardware and trim, usually in the $5,000 +/- neighborhood, plus shipping. A hard case can be made for each instrument for an additional fee.They are an investment that will hold their value, and look as gorgeous in your living room as a fine piano. He accepts credit cards, PayPal, or checks. They will eventually be available to order in our web store. You will be able to choose your wood, trim, and type of lever, and make your downpayment here. Mark will be in touch with you throughout the process, and send you photos as he builds it. Payments can be divided into three installments with the final payment due before the harp ships.
We are getting ready to begin a "Kickstarter" because Mark has bought a couple of new machines to make this work easier, without sacrificing quality. Now he needs more space! So he has to remodel his shop, (not a small undertaking) expanding it to fit his needs.
Check back periodically, soon we should have a link up!