Shalom Friends and Family,  
I Pray that you all are blessed with every spiritual blessing in the heavenly places in Messiah Yeshua, and that you are growing and thriving in these crazy times.  
This newsletter is very special, as you will be hearing from Mark! He has difficulty with his near vision, and has never been a good typist, so it is very difficult and time consuming for him to write letters and emails. He has some concerns about our bus for this upcoming tour and wanted to communicate to all of you so that you can pray for us, and hold up his hands (so to speak) as this area is taking more and more of his time, time away from preparing musically.  
He also has an update on the well, which I will add to, as we just got some new information this morning.  
We are excited to see all of you east coasters this summer! If you are not on the calendar and want to have us, call: Ralph Seta 661-317-0792  
And don't forget that we are doing home concerts now. If you can fit fifteen to twenty people in your living or family room with a space for us (Mark, Les Morrison, and I) and our instruments, and can get that many people to come to an event at your place on a weeknight, give Ralph a call!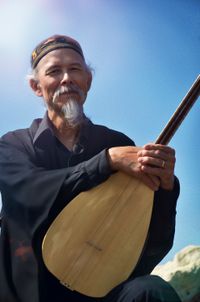 Travel Safety Needs Plus!  
Hi all, Mark here, yes... the one who doesn't do social networking, and never writes!!  I'm crawling out from under my rock to send an SOS to all you folks that have an interest in our on-going ministry.  
We are preparing for our abbreviated tour season (east coast this year) and are having bus issues.  
It took most of our energy and finances to get our well and system installed, so there aren't funds available for repairs, and we are 3 weeks away from our first concert commitments. The Fleetwood has been a blessing for our family for almost 10 years now, and after nearly 400,000 miles, systems are just wearing out. It is also our off season house, so it sees a lot of use!! Been in prayer about this and feel led to make our needs known.  
Here's a list of the most important repairs, and costs. I can handle the repairs but just don't have the parts necessary, and could use some shop time for some electrical diagnostics. If you can help in any way, parts, finances, or if you are capable of loaning to us (for the summer), or donating an RV in good repair, with water and sewage tanks and a generator, that can sleep 4 and carry our equipment and tow car, it would bless us immensely, save me from lots of contusions & abrasions, and I would venture to guess HaShem would be pleased by your generosity!!  
Parts Needed for Repairing Our RV;  
PAC brake valve               $800  
new front brakes              $1500  
turbo unit                    $1500 + $150 shipping  
electrical diagnostic time approx. 4 hrs @ $95 per hr. + parts (possible inverter replacement at $900 last time I priced one)  
replacement refrigerator cooling unit  $1300  
front coach AC unit           $950  
2 new tires                   $1000  
these are the most important for safety or comfort.  
Of importance also, the undercarriage has some severe rust damage, the framework needs to be rebuilt, the generator needs an overhaul, we need a new convection oven/microwave.  
We have 4 hatch covers damaged in parking lots, replacement is $1500 per cover + painting to match.  
The cosmetic stuff is not a safety issue, but if your unit looks well kept up, you get less complaints from neighbors, and the police are less inclined to ask you to leave in the middle of the night!  
(Yes, I could write a book about our experiences, believe me, you can't make this stuff up!)  
Also some campgrounds won't allow you to bring a unit in that is older than 10 years, or looks scruffy.  
    We have been blessed to be able to do what we are called to, and love to do, for the most wonderful people on the face of this planet (you all!) for the last 15 years, help us continue !!!  
Blessings !!!  
Mark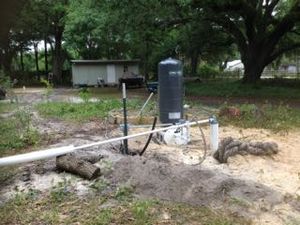 The Well  
This is an excerpt from an email by Mark, to a family who donated a large sum towards getting our well put in.  We were all so excited as we thought this would be enough to cover the whole well, but then "life happened". We know that God was not surprised, He made surprising way for us where there seemed to be no way.  
     Here's the latest and weirdest from us!  
I contacted the well company & set up a date. When I called the day before, to ask about how to pay, he was puzzled and asked if I had talked to Bill in California, because he had already taken care of it. Now I was puzzled. I confirmed the address & pertinent info, he had everything correct, so I assumed someone had responded to our fund raiser for the well, as well as your family, and I was really blessed!!  Bright & early the next day the drilling rig rolls up and they  started making holes in the yard. Two days later, after three 50 to 60 Ft. attempts, they finally hit the type of water they were looking for, set the casing and pump/tank combo, and were off to another well, they did a great job, and the new well has less iron and sediment, and amazing volume and pressure!! The ducks loved the temporary pond I made when I flushed the well before connecting!!  
     Unfortunately, the successful well was 200' from the tie-in point, and 100' from power, so I thought Baruch HaShem, we can afford the plumbing and electric costs! The last time we did any plumbing, we hand dug the trenches for the sewer lines, it took weeks, as I have to work around a back injury I have. So, I was so blessed to be able to afford the rental on a trencher for a day! I dug a total of nearly 500' of trench in one day roots and all (I love machines that actually work!) So.... 1 trip to Gainesville for supply wiring, pipe and connectors, a long hard week, and we now have functional water!! we'll still need another filter unit, because the water is still too high in iron, so we're investigating options. the new setup has plenty of pressure and flow for backflushing the filter, so we are flushing every 3 days, until we can find a better system. We had about a thousand dollars in rental and materials, and our vehicle registrations were all due at once (on my birthday no less!) so we were able to cover them and our electric bill for the month with the combination of the two donations.  
   
     As you can imagine, we were so blessed!! Then the well guy showed up really embarrassed, and informed us they had given us someone else's well??? Apparently a mistake in their office had us crossed up with someone else,  Oy!  I told him we had spent the funds we had set aside, and he was totally understanding, apologizing profusely for the mistake. Unfortunately, he's a small 1 horse company, and can't just write off the mistake, but he's happy to take whatever payments we can make whenever we can make them, he understands that we are a ministry group, & we are in between tours, so... praise God anyway for what turned out to be a very open ended long term loan (is this weird, or what??)  
     So, we now have a fully code legal, permit registered well!!  I still have no idea what HaShem is doing  here, just trying to hang on for the ride. We are trying to get ready for summer tour in June, finish up recording some new songs, work with Les on new arrangements and I really want to get our new music video finished, it's coming out beautifully so far, we don't have any of our own video equipment, so we have been using some of the better cell phone cameras that we have, with surprising results!!  
Love y'all, I really am encouraged by your partnering with us!!  
Pray that I can either get our bus running again, or that God will find us a new one, or a loaner for the summer, I'm actually going to write my first ZL article, and send out an SOS  
Blessings,  
Mark  
P.S. From Shimrit, We just got the results back from our water test this morning. With the one filter unit we have our water is great! Also the water straight from the well is much better than the water from the former well, so we don't have to add anything to the existing filter unit. Bless Adonai!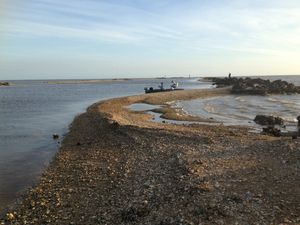 Our Music Video, and New Music!  
So there you have some needs, and some good/weird news all rolled into one, with the blessing of at least being able to make payments on what we still owe on the well!  
Here's more great news! We are working on the new music video, and it's turning out beautifully! It's of the song "Even There" from our last CD by the same title. It is way overdue, and is a vision I have had for a couple of years, but we never had the equipment or funds to do it.  
I read an article about music videos done with cell phones and thought "We can do that!" So we got Gabe Oliveira on board as his family stopped through (on furlough from Haiti) on their way to visit family in Rhode Island. He has a really good camera on his cell phone and a lot of experience doing special videos with his family's mission in Haiti  
Long story short, we got most of the taping done in the two days he had with us, and he was up all night editing them into a rough music video. There are still some lumpy spots where we planned on adding some other footage, and have finally gotten all the additional nature footage we need in the area in the photo above (gorgeous isn't it?). So we are trying to work that in along with all the other prep we need to do to get ready to do our summer tour.  
We are still working on getting "Butterfly" out as a digital download. We are hung up on the violin we wanted on it. We are having Burt Yellin add violin parts, but he injured his shoulder and hasn't been able to play. Please pray for him. If he hasn't been able to get us the parts by the time Les Morrison comes on the 1st of June, we'll record Les instead.  
I've also written several new songs in the past three months, and we are projecting getting a new CD out this winter. Below is a "sneak peak" of the lyrics of one of them.  
This song came from an idea I had, that there should be a song of the parallel between the ancient Hebrew betrothal, and Messiah's love and call to us as His bride. The young man would have already made arrangements with the father of the young woman, but she did have a say in the matter, as we see in the story of Rebekah. Isaac was not present to offer her the traditional cup of wine, for her to either accept or refuse, so she was merely asked, "Will you go with this man?"  
Usually the young man would have a meal with the family and would pour and offer a cup of wine to the young woman, she then would either take the cup and drink it, accepting him, or refuse it. Here is the song.  
Betrothal  
Can I live without His Spirit, infusing me with strength  
Can I live without His unending love  
Do I want to live alone, inside myself  
To keep the life I've always known  
_______  
Chorus:  
A cup of wine is sitting on the table  
As He looks at me with pure love in His eyes   
And I sit here on the edge of decision  
Afraid to leave my old life behind  
What am I afraid of, what do I have to lose  
Isn't it worth everything, to step into this new life  
(2nd time add: Leap into this new life, I will drink this cup and go with you)  
________  
He was willing to give everything, left what was comfortable behind  
Knowing my frailty, He has still chosen me  
He's the King and I'm a wretch, a fallen child  
He'll rescue me, and take me as His own  
Chorus:  
           We will be doing this song as an "invitational" this tour, and it will be on the new CD.  
The Lord bless and keep you all!        ~ Mark and Shimrit Hanes