A Visit From The Grandkids 
I pray you are all well and blessed! 
It has been a very different couple of months than what I had envisioned! I was tooling along, working on the book and making great progress, rehearsing my new songs daily to prepare for recording and without wanting to, writing more new songs (I have more than enough as it is!) You know, the usual. 
Over Thanksgiving my son-in-law wanted to come and visit with our four adorable grandkids. I was concerned about where we were going to put them for the night! I thought, well it's only for a couple of days, I could give the airstream a good cleaning and paint it. Use one of our couch cushions for the couch (which was bare wood) for a bed, and the boys and Joseph can sleep there and the girls in our RV! I'd wanted to do something with the monstrosity anyway. They came, and we had a wonderful time!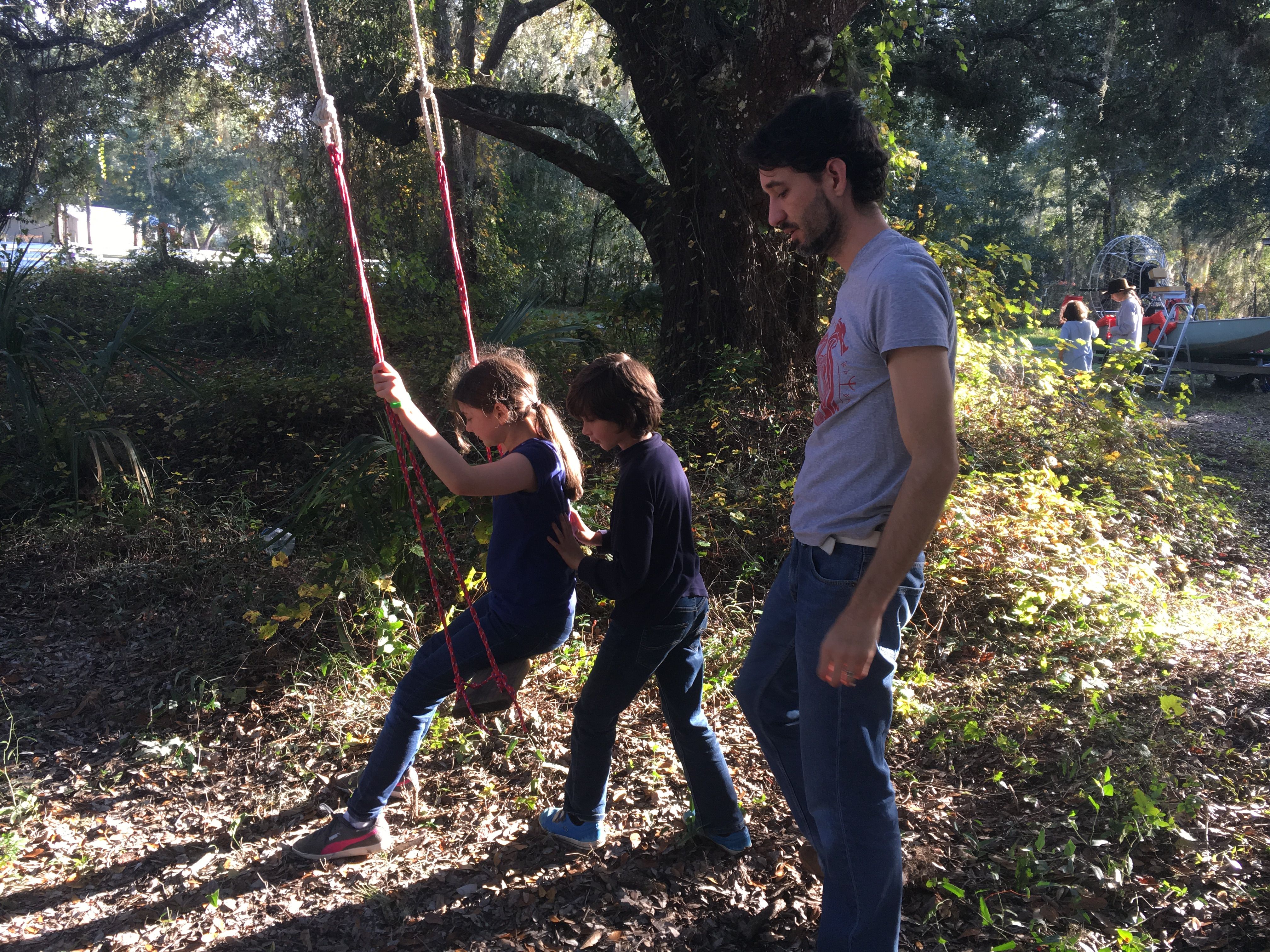 The Call That Changed Everything 
A phone call began a shift that brought all my plans to a grinding halt. My sister has been watching over our mom for several years now. We hadn't been able to have her here as we live in an RV and had nowhere to put her. She asked me to please take mom over winter break and keep her till this summer. She is teaching school full time and was becoming exhausted. 
Adonai is good. I had wanted to have her here, but our only option for her shelter was the old Airstream trailer and though the veneer was now acceptable,   the undercarriage and bathroom were a mess. I couldn't tell her no. I knew it was time and I had to do this. 
Thus began a two month odyssey that is still ongoing, but has transformed that little Airstream into a cute little vacation cabin.    
Before, just ugly plywood! But the walls looked nice!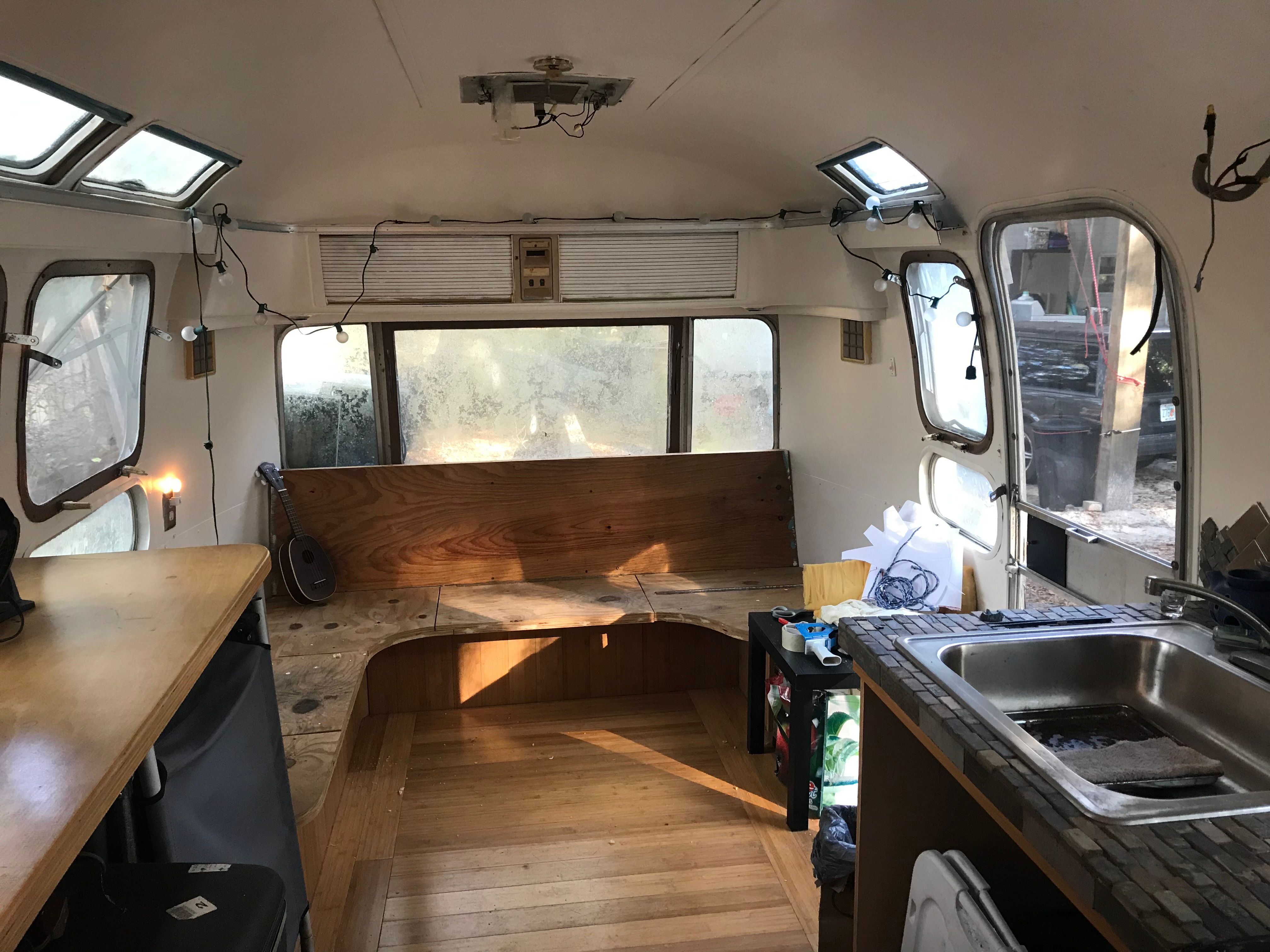 I made paper patterns to cut the foam cushions and upholstery.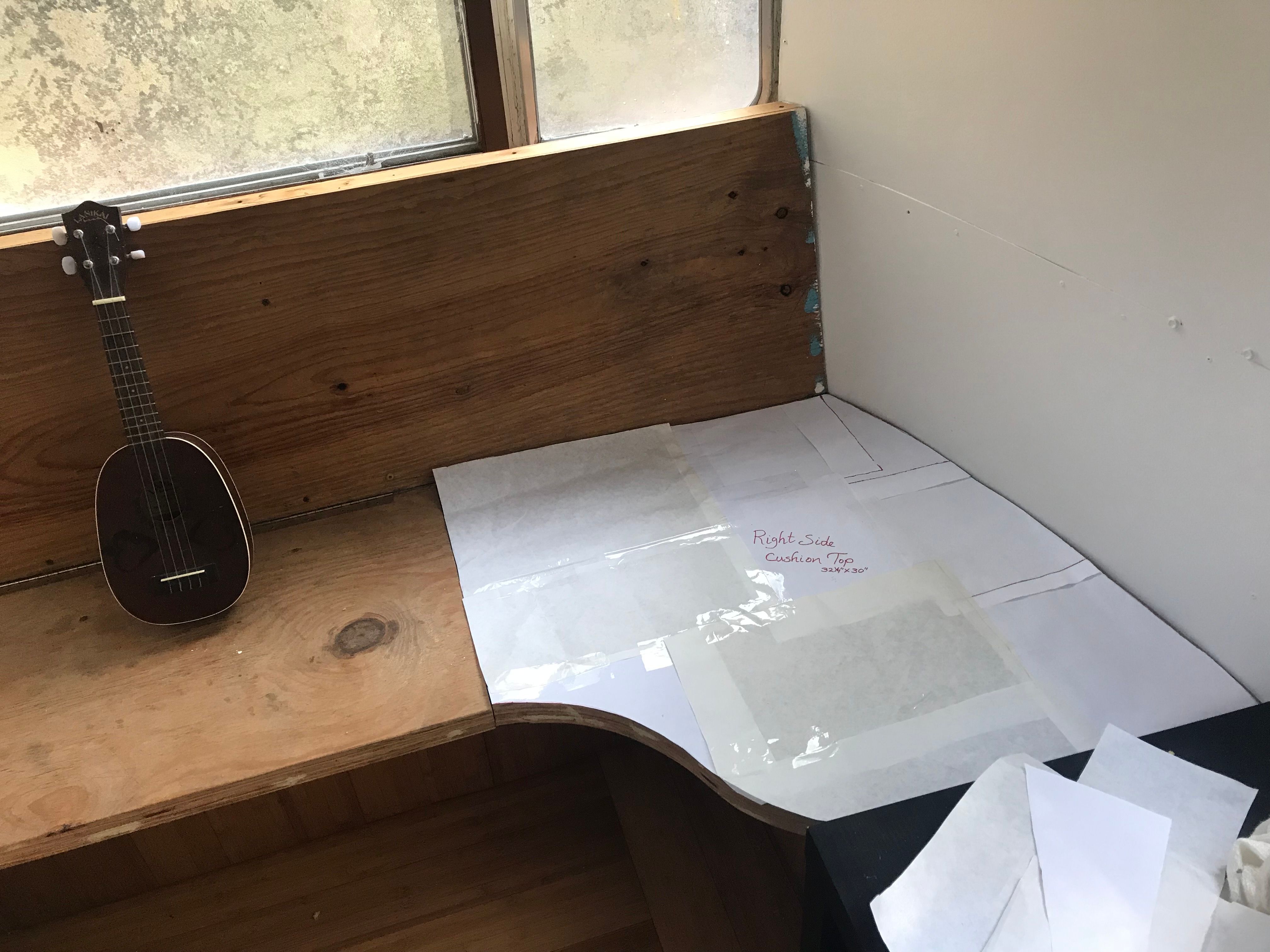 Cutting the foam cushions.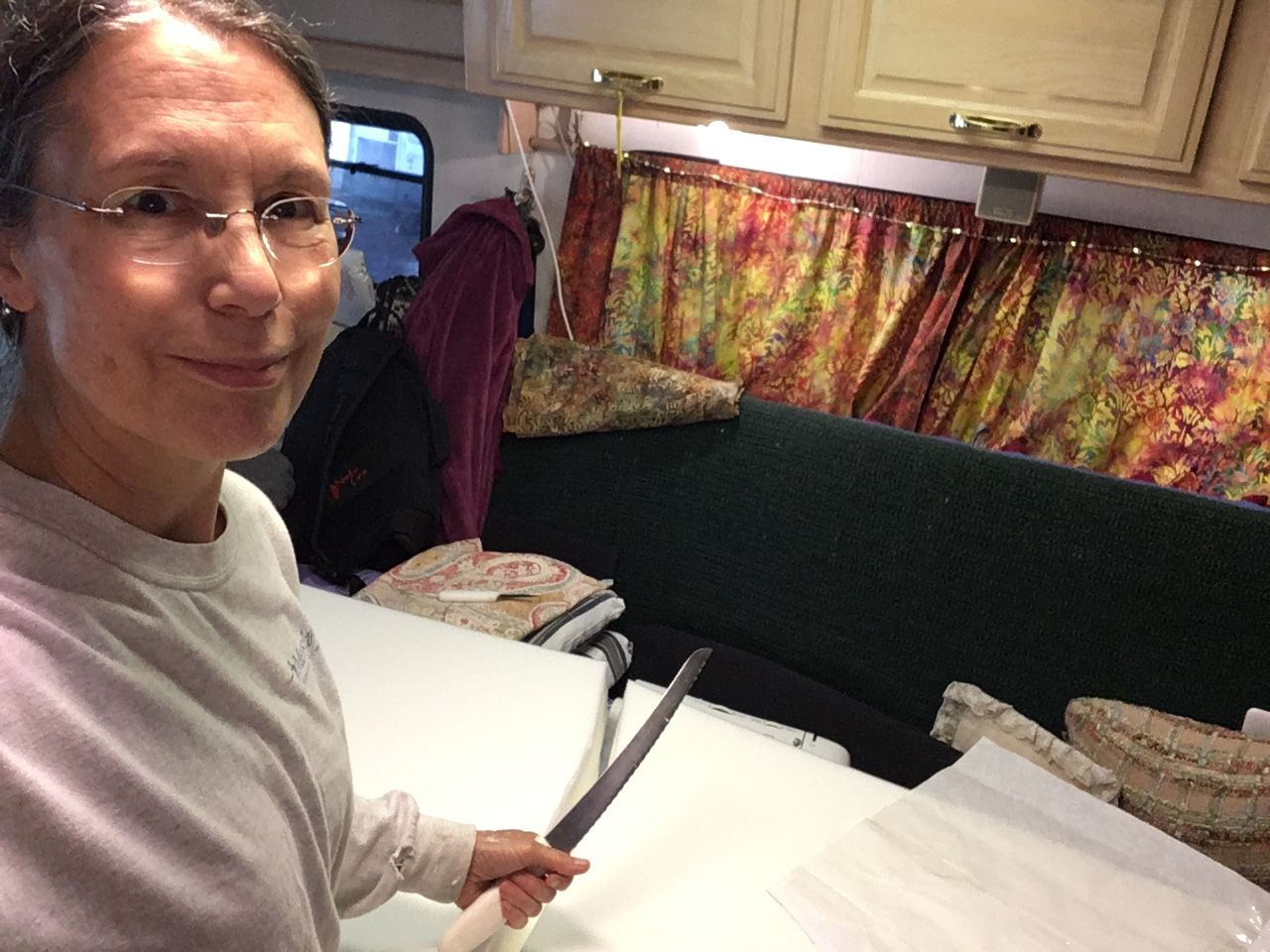 All done! And curtains in all the windows too.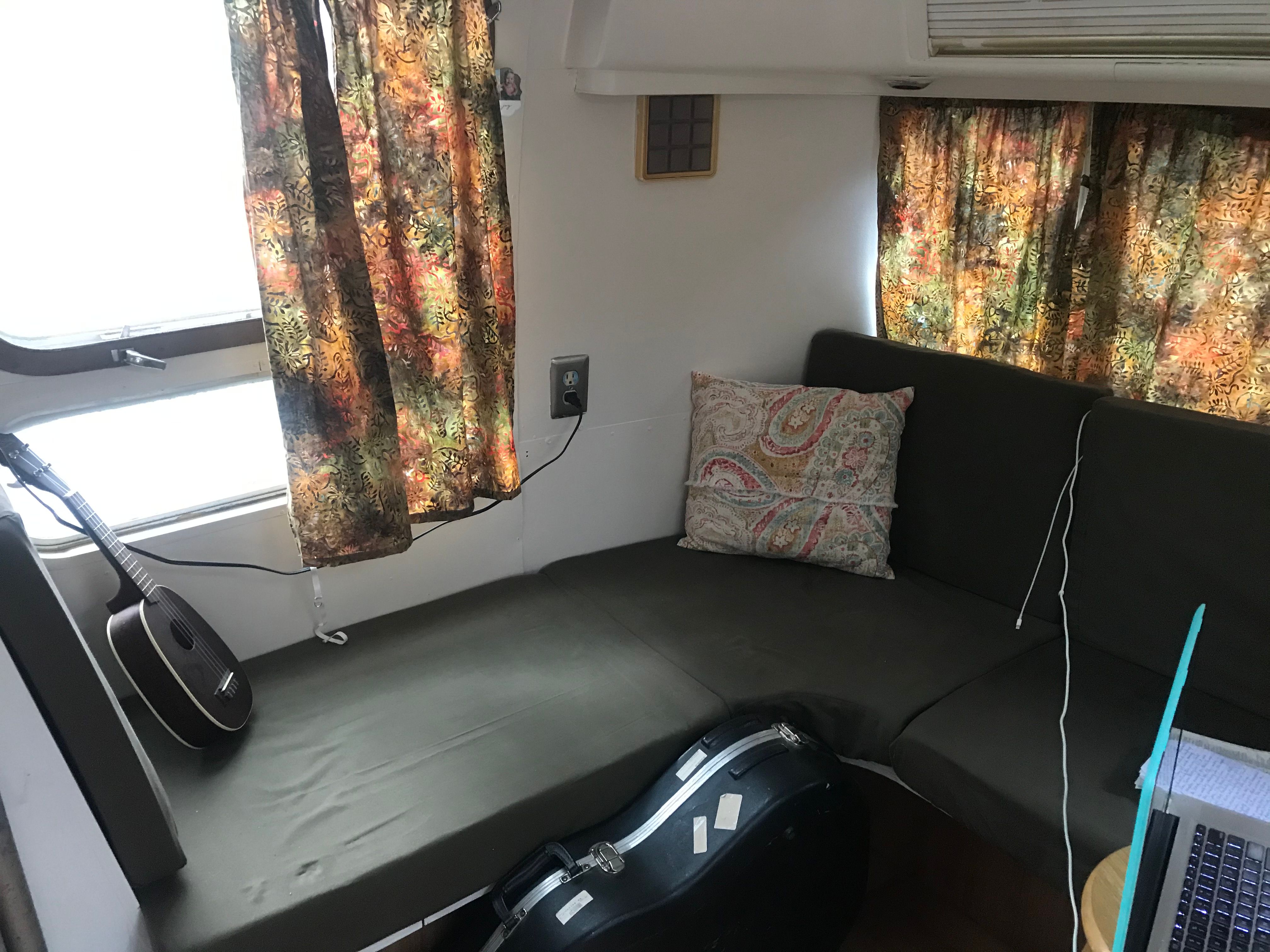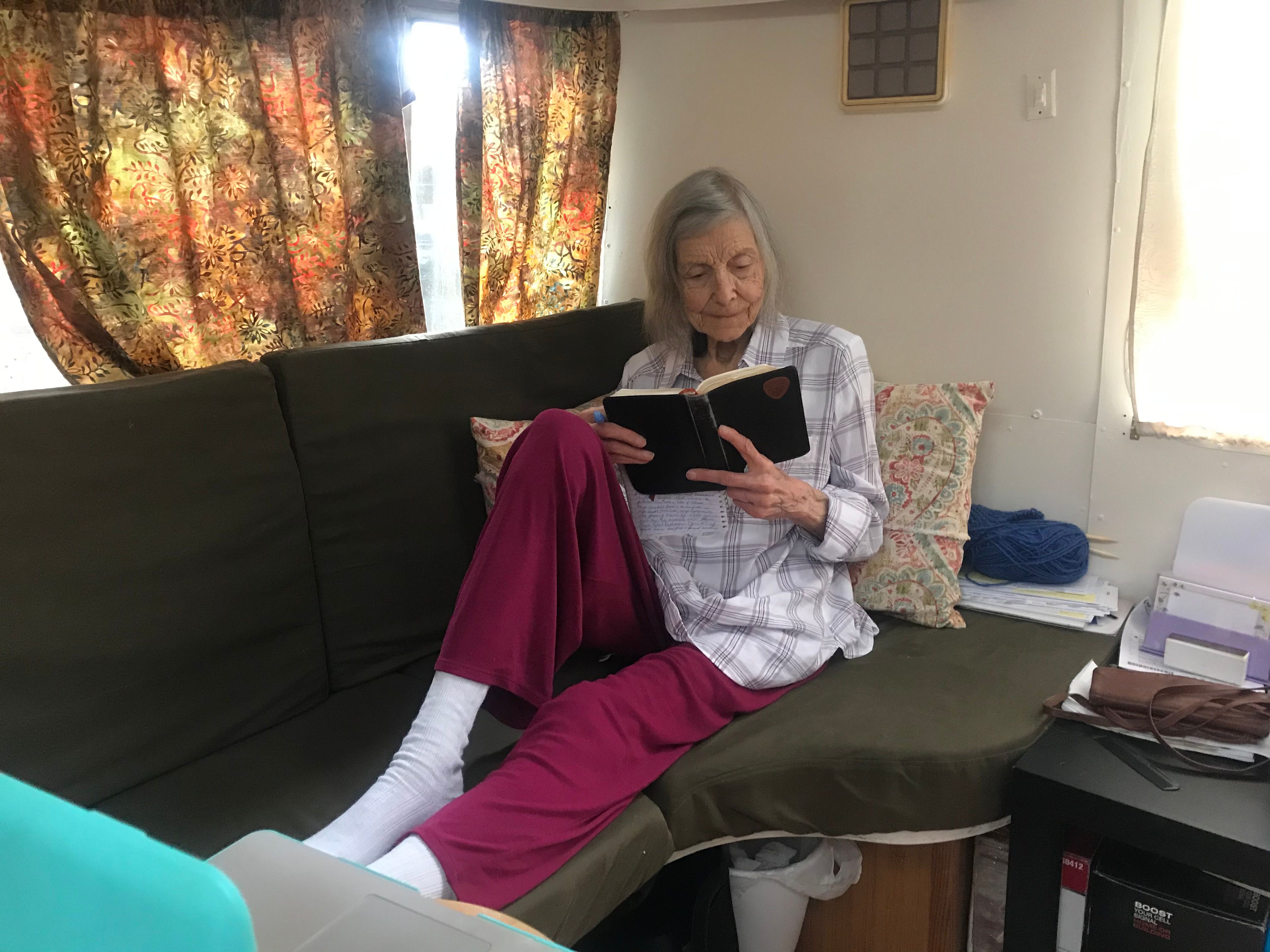 Finally The Light at the End of the Tunnel 
Two thousand dollars we didn't know we could ever come up with, and two months later, the bathroom is almost finished. Mom has been patiently dwelling in a cute little trailer with a nice full size bed, full kitchen, nice curtains, wrap around couch (I bought foam and cut cushions then covered them) with throw cushions, but a toilet only bathroom and using the kitchen sink to wash up (she uses our shower for bathing.) 
Mark ran into problem after problem in that bathroom and to top it off our water heater broke (and was leaking into our undercarriage) and he had to fix it, we hit a deer, he had to fix the damage so we would have a usable car, and the list goes on! Is Adonai working steadfastness and patience in all of us maybe? 
My part is finally finished. I had to make hooks (can't buy them ready made as the closet wall is slanted from top to bottom and standard hooks won't work, of course!) So her clothes are all now hung neatly in the closet instead of hanging from the cornice over the windows. 
Mark has only to install the countertop and sink, the tub is in but not yet functional, but soon the major work on that end of the trailer will be finished. As he was tearing up the floor he discovered that not only was the front end floor rotted out underneath the bathroom, but also the rear under the couch in the living area.  So he will take a break, and then dive into the other end. At least there's no plumbing down there! 
So Why Am I Telling You This Saga? 
Sometimes when everything seems to go sideways and all your lovely plans fall to ruins, God has a greater plan, and He intervenes in our lives. 
Everything I love about the area we live in I have wanted to share with my mom, but it didn't seem like it could ever happen. WOW! Mom is here and loving all the natural beauty of our forests and fields, crystal clear springs and rivers full of wildlife. We have yet to enjoy a sunset on the Gulf of Mexico, but that's on our to-do list! 
I was very concerned about my "Patreon" and "Givers Hidden Treasure" sites. I could no longer keep up on posts and social media, and wasn't getting newsletters out monthly. At this time that's the only way I have to keep in touch with those who love our music and want to stay in touch with our projects. My rehearsals and writing also came to a halt. 
I became very discouraged as Patrons left me and even more so when I had to dip in to our CD savings to cover some of the costs, even with a fundraiser on FaceBook. We had to go way over budget to keep up with the new problems as they arose. 
We Serve an Awesome God! 
God brought back to me every cent that I had to spend on that Airstream and more! I'm up to nine hundred dollars and only need to raise a couple hundred more to do our first recording session and get Kerah down here to work with us! So though our schedule has been delayed, it is now moving forward again. 
Thank You! 
A big thanks to those of you who have pre-ordered CDs which thus far has raised two hundred dollars. 
To those of you who are faithful Patrons, or who give via the mail and ACT, you guys rock, and your monthly giving over my monthly expenses (internet, website, advertising, etc.) has been put into savings each month, we have saved seven hundred eighty seven over the past four months towards our recording expenses! 
Working together with Adonai's blessing, we'll get this done! 
Blessings in our Messiah Yeshua,  ~Shimrit 
P.S. If you are interested in joining Kerah and I on Patreon, you'll get patron only content including: regular blog posts, screen savers created by Kerah, recipes, videos of new songs, new song lyric sheets with chords, video updates, chapters of my book, and so much more! Go to: https://patreon.com/shimrithanes