Shalom to all of you, I pray you're having a blessed and safe summer, full of family time and fun excursions.
Mark and I have been praying about doing some concert ministry here in the southeast. My health has stabilized enough to make that possible, and we're excited about it. I'm praying with some women about doing some prayer walking around a nearby town. I'm praying and waiting on the Lord for a prayer partner for this work. I'm considering doing some music solo, just me and my small harp, at a nearby convalescent home bi-monthly. I'd appreciate your prayers for those things.
My grandkids are all growing like wildflowers. Shalisha has four children, and Kerah one. Baruch and Adrielle are still living on our property with us, and it's nice to have them so close. Shalisha and Joseph are in NC, and Kerah and Andre are in CN with the Oliveira family. Liorah, and Natanyah and her husband Zach are in PA in different cities.
Well, the count-down has begun for the release of book three, Flight of the EsCargo, as Adrielle (my proofreader daughter) and I go through the proof copies just one more time with a fine-tooth comb, weeding out any errors I missed in past edits.
This book finishes the story of the Stowaways, following them through their trials and  changes during their years on the EsCargo headed to a new world. The ebook is available for pre-ordering at this link: https://www.amazon.com/dp/B0C885YJRP
If you don't want to order from Amazon, The Dreamers and The Stowaways paperbacks are available (signed copies) from my author website https://shimrithanes.com and the new one will be available there after July 13th. If you'd like a taste of what these books are about, I've included the back cover blurbs from the three books which will give you a good overview—at the bottom of this newsletter.
The next book 'The Migration', will bring in some of our favorite folks from book one 'The Dreamers', as they meet and befriend some of our stowaways. Before I start on that new book, I'm working on a devotional, and a course on how to edit your book. I've learned so much through the necessity of editing my own work, and through that experience I've discovered that it's difficult to do well.
I've learned some basics that every editor uses, and what you need to look for in your manuscript. Editing can be very costly. The average price for a copy editor is .04 to .09 a word, or if they charge by the page, 5.00 to 15.00 a page, that's 1,500 – 4,500 dollars for 300 pages, but that's not all the editing you need. There are several types of editing. Developmental editing for your story's structure and flow, copy editing for grammar, spelling, and sentence structure (this is sometimes also called line editing), and then proofreading to catch anything the other editors missed.
It's a big pill to swallow as an independent author, but trying to do it all yourself is tough! I want to help, and in doing so, add some much needed cash flow to help fill an income gap we're experiencing. I hope to start on The Migration by late fall, or winter.
If you, or someone you know might be interested in an editing course, contact me at: shimrith@pm.me
If you are interested in supporting my writing ministry, you can join Subscriber's Treasure on our website. https://zemerlevav.org/subscriber-treasure
I'm praying that between all my books, and my editing course, I will eventually get to the point where we can keep the bills paid and build a house. Soc. Sec. isn't enough and won't last much longer. We need to get some income flowing here! We want to take care of ourselves using the gifts Adonai has given us!
You can help if you're on Facebook, LinkedIn, Twitter, or Instagram by friending me and checking on my feed to see if I have any adds up that you can share. On the Book-of-Faces (:D) I'm Shimrit Hanes, but I also have a page for my books called The Terra Colony Project as well as the Zemer Levav page where I do a livestream every Sunday afternoon. On Twitter I've opened a new account under my name @HanesShimrit. Instagram is @zemerlevav.
That's all the news for now! Hold fast to our rock, be thankful, and find joy in the journey,  ~Shimrit Hanes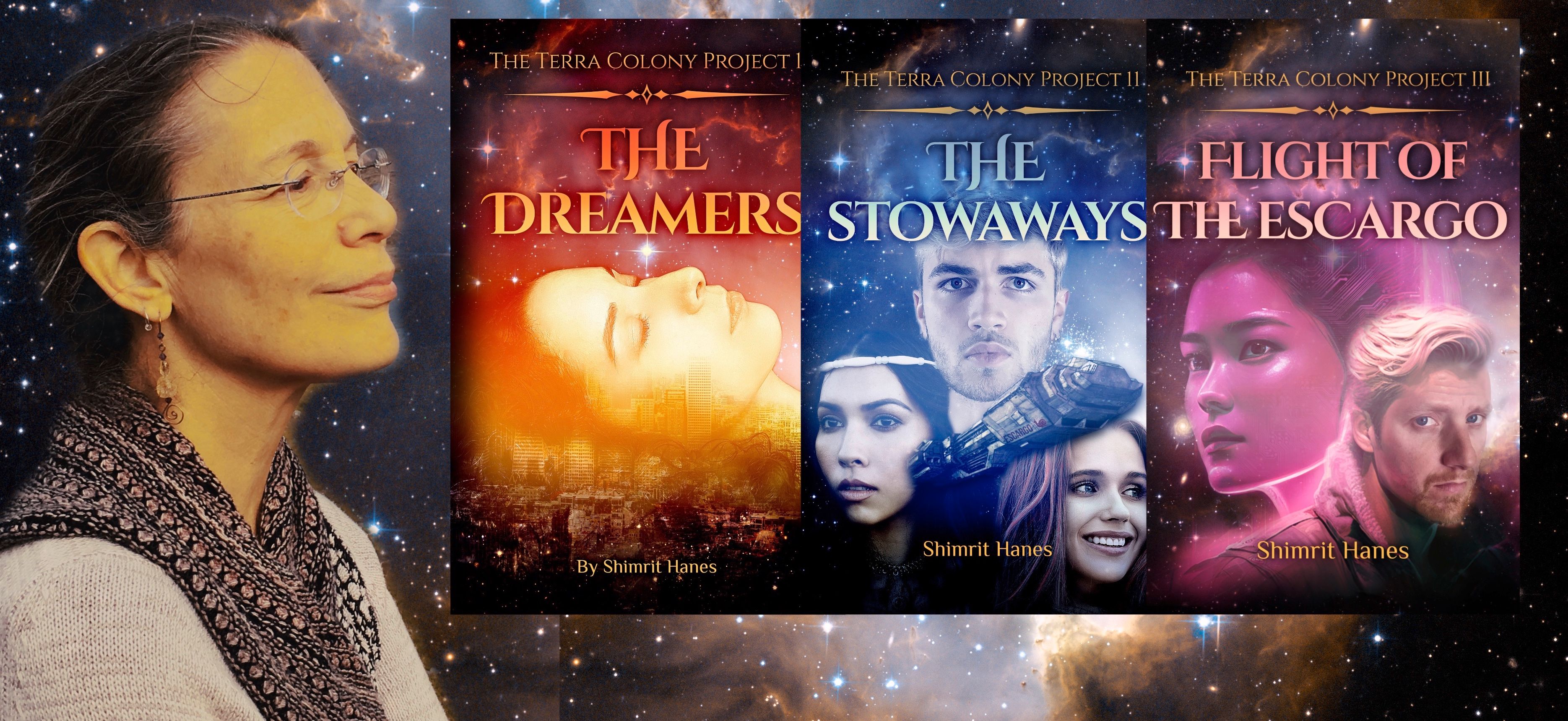 The Dreamers
Wrenched awake by a nightmare, Antonia's world collapses around her. Only twenty and newlywed, the devastation leaves her heart as bleak a prospect as the city where she's built her life. The loss of her family, and her husband Pedro's head injury, leave her isolated in an increasingly hostile world. Camping on the street with refugees and tormented by thoughts of what her family must have endured as they perished, another dream sweeps her away to a beautiful new world.
In Nevada, Brian has isolated himself in the desert, and is soloing on a project that should be done with a team of six. Haunted by a beautiful dream, he searches the web at night and discovers he's not the only one.
Nearby on Twin Peaks, Charlie Teng tries to hold his family together in the face of three tragedies, little realizing this last one will cause his path to cross a dreamer's, changing their lives forever.
The Stowaways
Throughout his childhood Daxton's parents threw money at him and told him, "Go have some fun." Carpe mortem! He's nothing more than a pampered orphan! College is abominable, except for his friends, when they escape into the alternate reality of computer games he feels in control, but reality stinks. He's a prisoner in a golden cage. 
An imprudent trip with a friend to a restaurant outside their compound, and an SATV interview with the head of the Terra Colony Project, open his eyes to a new possibility. A rover attack gives him one more reason to leave.
Captain Velasquez and Robert Greene have their work cut out for them. This group of colonists are raw and green, many coming from horrific persecution. They need a place of peace to heal. Hopefully, the training ground in Oregon will remain a secret. They've got a year to teach this group the founding principles and the skills they need to make them a strong, and caring community. 
Flight of the EsCargo
Daxton and his friends are caught. After leaving the airless cargo hold, they're found camping in a grow room on the mid-deck of the EsCargo. The last of five colony ships headed to the Sol Minor system. The ship is too far from home; there's no way to send them back to Earth. They're trapped in the consequences of their decision to stowaway.
There are eight of them, and only six sleep pods available. What will the two extra stowaways do on the fifty-year trip? Is there another way to fix this? Will they go nuts in fourteen years on the big, lonely ship? Or will they discover what they are truly capable of?